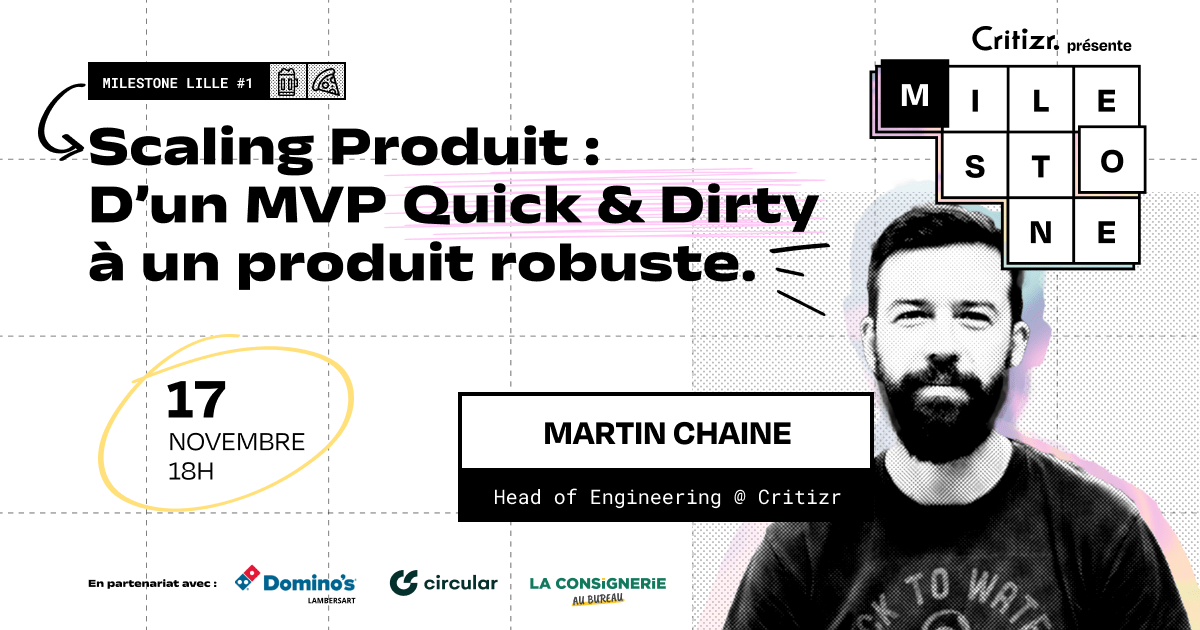 Bonjour,
Ceci n'est pas une simple offre d'emploi ! Vous êtes invités à un évènement qui vous permettra de partager votre experience et d'apprendre d'autres professionnels de la tech. 
Ce nouvel événement communautaire est dédié spécifiquement aux Développeurs Software, Product Owners/Managers, Product Designers.

#Milestone est le premier de son genre. Organisé (IRL) le 17 novembre dans les locaux lillois de Critizr situés au coeur d'EuraTechnologies , nous invitons les ingénieurs software, PO/PM, les designers à rejoindre cette joyeuse et florissante communauté qui se concentrera sur divers aspects de l'ingénierie des solutions, comme les challenges propres au développement, le partage des meilleures pratiques et plus encore. Notre objectif est d'aider les professionnels de la tech à préparer l'avenir, à découvrir de nouveaux talents et à diffuser des ondes positives au sein de cette communauté dynamique.
La première de ces rencontres semestrielles sera consacrée à la résolution de problèmes. Animé par notre Head of Engineering, Martin Chaine, et intitulé "Scaling Product : D'un MVP Quick & Dirty à un produit robuste", le groupe discutera de la meilleure façon de surmonter les difficultés de mise en œuvre et de créer un produit performant capable de gérer des milliers d'utilisateurs.

Nous sommes fiers d'annoncer cet événement et sommes incroyablement reconnaissants envers nos sponsors, qui croient également au pouvoir d'une communauté de développeurs engagés : Circular🧑‍💻, La Consignerie 🍋 et Domino's Pizza Lambersart 🍕 qui aideront à ravitailler le groupe avec des pizzas.

Le programme 📝
18h30 Bienvenue
18h45 Intervention de Martin Chaine
19h15 Q&A
19h30 Pizzas, bières, compétition Mario Kart et networking.


Places limitées, les inscriptions, c'est seulement par ici ! 🤩

Pour rejoindre la communauté, c'est par ici 👉 Meetup Page
Et pour accéder à l'évènement sur LinkedIn, vous pouvez cliquer ici 👉 LinkedIn Event
Inscrivez-vous dès aujourd'hui et partagez cet événement avec votre réseau ! On vous dit à très vite ! 
Department

PRODUCT

Locations
Already working at Critizr?
Let's recruit together and find your next colleague.